Home| About Us | My Catholic Faith| Catholicism 101| St. Joseph |Tridentine Rite| Sacred Heart Church |Mass Schedule |Vocations
Prayers |Lives of the Saints |Rosary & Scapular|Mass & Rosary Enrollment | Sins to Confess| Erroneous Teachings |Donations
Sacramentals Request| Faith in Action Magazine | Links | Search | Contact Us| Disclaimer
<![if !vml]>
<![endif]>
Saint Hyacinth receiving the habit
Do you have a calling to be Third Order of St. Dominic?
Why are you in a "traditional Catholic" Third Order?
This question is asked frequently and we will answer this as clearly and briefly as possible. 1) We believe that the Modern Church,1 (since the 60's) has changed so considerably, that it no longer resembles the four marks of the Church. The True Church is One, Holy, Catholic and Apostolic. Any Church that lacks even one of these marks is an imitation, a false church and not the one founded by our Lord. The True Church must possess these marks.
Here is a brief explanation of the Four Marks of the True Church:
One: As God is one, he established one church, which He commanded all men to obey and to follow in the way of salvation. "If a kingdom is divided against itself, that kingdom cannot stand." Mark 3:24 Christ intended His Church to be One. Its members must be united in doctrine, in worship, and in government. "There shall be one fold and one shepherd." John 10:16
Holy: Christ intended His Church to be Holy; therefore the True Church must be Holy. It must teach a holy doctrine in faith and morals, because its Founder is holy. It must provide the means for its members to lead a holy life. " Beware of false prophets who come to you in sheep's clothing, but inwardly are ravenous wolves. By Their fruits you will know them. Do men gather grapes from thorns, or figs from thistles? Even so, every good tree bears good fruit, but the bad tree bears bad fruit...Therefore, by their fruits you will know them" Matthew 7:15-17,20.
Catholic: Christ intended His Church to be Universal, that is , Catholic; and therefore the True Church must be universal, or Catholic. It must be for all peoples of every nation and for all times and teach the same faith everywhere. Christ commanded His disciples: "Go therefore and make disciples of all nations." Matthew 28:19 "Go into the whole world, and preach the Gospel to every creature." Mark 16:15 "You shall be witnesses for Me... even to the ends of the earth." Acts 1:8
Apostolic: Christ intended His Church to be propagated by His Apostles; and therefore the True Church must be Apostolic. It must be the Church propagated by the Apostles. Its rulers must derive their office and authority by lawful succession from the Apostles. It must hold intact the doctrine and traditions of the Apostles, to who Christ gave authority to teach. It was Christ Himself, and no one else, who chose His Apostles and disciples, in commanded them to teach His doctrines to all the World. Saint Paul says: "Even if we or an angel from Heaven should preach a Gospel to you other than that which we have preached to you, let him be anathema." Galatians 1:8 Saint Paul himself refers to the Church as "built upon the foundation of the apostles." Ephesians 2:20
Between the promotion of heresy and Protestant ideals, continued silence of (invalidly consecrated) Bishops against the errors of the world, the sex scandal and the lack of reverence shown by many priest and laity today, there seems to be little offered by the "New Church." Christ said you would know the True Church by these clear and visible marks, which does not exist in our present situation. Though our ancient Church will always be perfect in Her faith and doctrine, the men and women that are leading the Post-Vatican II Church, no longer speak the Truth , which lives in our Dogmas and Traditions. They have misguided Catholics around the world like wolves in sheep clothing. The religious orders no longer look to Sacred Scripture, the dogmas of the faith, the Sacred Traditions and their founders as spiritual fathers and mothers. Instead they look to man and the modernist ways that provide absolutely nothing (look around and you will not see anything encouraging in the New Church). It is clear to us why we have been called together. We are here to live for Christ through his Holy Mother Church. This means to live by all the laws of the Church and not by unfounded theories of cafeteria Catholics, manifested heretics and misguided hierarchy. We firmly believe if you subside from the teachings of the Church, then you are not Catholic. If you believe and support such sins as: abortion, euthanasia, pre-martial sex, salvation is found in all religions, that Dogmas can be discarded, that women can be priest, etc. then you simply are not Catholic.
1 We are not saying that the Catholic Church is no longer the One True Church of Jesus Christ, but believe we are going through a purification that will see the return of holiness and dignity through our Sacred Scripture and Sacred Tradition. This by no means is a thumbs up to be Protestant. Jesus started one church and that is the One, Holy, Catholic and Apostolic Church.
What is a Third Order?
Third Orders, also, commonly called tertiary and secular orders, are societies of people who wish to deepen their Christian life and apostolic commitment in association with and according to the spirit of various religious institutes, but without retreating from the world like monks or nuns. A member of a third order (Benedictine, Carmelite, Franciscan & Dominican) are called a tertiary. The orders are called "third" because their basis usually follows the establishment of the first and second religious orders with which they are associated.

The 1912 Catholic Encyclopedia tells us "Third Orders signify in general lay members of religious orders, i.e., men and women who do not necessarily live in community and yet can claim to wear the habit and practice the good works of some great order." The words 'Generally lay members" imply that there were clerics, including priest, who were attached to the various orders by Tertiary membership. Most members , however are lay people, married or single.
The first Third Order was the that of the Humiliati, a quasi-monastic lay movement of the twelfth century. After some turbulent years, Pope Innocent III in 1201 divided them in to two parts: a clerical monastic part and a lay secular part, the latter of which was the first to bear the name "Third Order".
Later, principally by the Franciscans and the Dominicans- the institution of the Third Order were expanded immensely. The Dominicans also had the Militia Jesu Christi, which was created for the defense of the Church against the Albigensian heretics. Defense here, usually meant armed defense; for example, Simon de Montfort, who led the Albigensian Crusade, was a member. By the fourteenth century, the two were merged into one and lived a rule drawn up by the Master General of the Dominican Order, Munon de Zamora (1285).
Many other orders began their own Third Orders: Besides Dominican and Franciscans Third Orders, the future brought us the Servites, the Carmelites, the Augustinians and the Trinitarians. The more ancient order of canons regular, the Premonstratensians (or "Norbertines," founded by Saint Norbert) also started a Third Order.
Here goes on to explain the difference between "Secular" and "Regular members. "Regulars" are religious. For instance, the Franciscan "Third Order Regulars" (T.O.R.) are all religious, as are numerous groups of Dominican or Franciscan teaching Sisters and Benedictine teaching and hospital Sisters. They are not "nuns" (solemnly professed religious bound to cloister and choral recitation of the Divine Office); they are "sisters." "Seculars" are not religious. They are mostly lay people, but can be priests and /or religious of other orders.
There are many famous Third Order members throughout history. Here is a small list of Dominicans
Saint Louis de Montfort, Father Jean-Jacques Olier (founder of the Sulpicians): Michalangelo; Nicolaus Copernicus; Blessed Adrian Fortescue (1476-1539) ( a husband and father, cousin of Anne Boleyn, martyred by Henry VIII); and Sigrid Undset, (1182-1949) the Norwegian writer
Being in an Third Order is not a membership in a society or club. It expresses living a consecrated life, making a more whole gift of oneself to God, and motivated to live the evangelical standards more absolutely. Each Third Order is a school of sacredness that aims at perfecting the Catholic life of its members.
Who can be involved in a Third Order ?
Anyone can be involved, but you must go through a postulant and novitiate period to see if the Dominican life is for you. A tertiary profession is then made and all are required to lead chaste lives, according to their state of life, attend mass on all Sundays and all Holy Days of Obligation (Traditional Roman Catholic Calendar) and to be dedicated to the devotions of the community and of course the most holy Rosary. A more detailed explanation is given to those are interested.
The Third Order of Penance of St. Dominic is dedicated to our personal holiness as well as the salvation of all sinners through the corporal and spiritual works of mercy, prayer, fast and the Holy Sacrifice of the Mass. Throughout our lives we make ourselves available to all that are in need.
Do you have a calling to the Third Order of Penance of St. Dominic?
There has always been a great need for Catholics to be involved in our Holy Mother Church, but in a holy and productive way, not the way of the world. This need cannot be compared with the vocation crisis of priests, but the faithful from around the globe are calling out for someone to lead them to Heaven, calling for someone who is willing to spend their lives for the glory of God, the preservation of the traditional mass, and the salvation of souls. If you desire to be an instrument of Our Lord in His work for souls and His Church, we invite you to be open to the Lord's Will. Through prayer, consider if the Lord in some way wants you to be a part of this traditional Catholic Dominican Third Order.
What are the qualifications for Admission?

This is not a life for the Catholic who picks and chooses his or her faith, but for those who have a burning longing to become a holy and courageous soldier of Christ, for those who desire to frequent the Sacraments and teach true doctrine in these times of so little faith. You must have a thirst for the salvation and sanctification of souls, especially your own, love of Our Divine Lord and His Holy Mother, love of the Church and Her liturgy, the Rosary, and possess good moral character, piety, generosity, good judgment and a healthy sense of humor. Admission procedure includes initial contact, getting acquainted, formal application and acceptance.


The Order of Preachers (also known as "Dominicans")

After St. Dominic founded the Order of Preachers, it spread throughout many countries. The motto of the Order of Preachers is Veritas (Truth), the Truth that never changes. St. Dominic's Order of Preachers is divided into three groups or "orders":
The First Order consists of Dominican priests and brothers.
The Second Order (first founded in 1205) consists of cloistered nuns who continually study, praise God, and pray for all of us. So important was their mission of prayer, that St. Dominic established their order even before the First Order.
The Third Order consists of many groups which are typically divided into:
(a) Regulars (i.e. those living in convents, such as our Dominican Sisters & Brothers)
(b) Seculars (i.e. those living in the world)
Whether First, Second, or Third Order, all Dominicans are one family united as followers of the clear-thinking, humble, obedient, most loving St. Dominic.

Details about the Third Order of St. Dominic
Of the Third Order Regulars and Seculars, the first take vows, the latter can only make a solemn promise which, however, distinguishes them from members of mere confraternities, and constitutes them legally a religious order. Members of the Third Order are commonly referred to as Dominican "Tertiaries" or Dominican "Laity".
The general object of the Third Order is to bring something of the religious spirit of the cloister into the world and to sanctify its members by a striving after greater perfection in union with the fathers and nuns of the first and second orders. See the Nature and Object of the Third Order for more specifics. Secular members live normal lives, whether married or single, carry out their ordinary work, but there is the added dimension of living within the spirit of the Order.
Membership

Any Catholic man or woman, 18 years or older, may join a Third Order (there are other Third Orders, such as that of St. Francis), but may not belong to more than one at once, nor may he/she leave one for another without good reason.

The laying aside of the distinctive sign or prayers for any space of time does not in itself put an end to membership with a Third Order, but the deliberate wish to dissociate oneself from it is sufficient to produce that effect.
Membership consists of a "Postulancy" phase where basic instruction is given on the Rule of the Third Order. Following this is a longer "Novitiate" phase which allows the Novice member to complete his/her training and to weigh his/her inclination toward the Third Order life. After the Novitiate phase is completed, the member makes their "Profession", which is a publicly-made promise and is officially accepted by the Church.
Chapters
In most countries the Third Order of St. Dominic has typically been grouped into chapters, subject to preferably a Dominican priest, and having a lay prior and sub-prior or prioress and sub-prioress.
A chapter of the Dominican Laity is an authentic Dominican community drawn together by love of St. Dominic and the spiritual life. Divine charity is the bond between all Dominicans on earth, in purgatory and in Heaven. It is the Communion of Saints in operation. When a chapter meets, it is a family which meets. By belonging to the Dominican Order, a Tertiary shares in the rewards granted for good works of the whole Order. He adopts for his future life the rule and spirit of the Dominican Order.
It is also possible to become a member of the Third Order of St. Dominic and not be associated with any chapter (normally when one is otherwise impeded from doing so). In this case one is considered a "private tertiary". However, being associated with a chapter is the ideal as the Tertiary benefits from the organized instruction, common projects, mutual encouragements and social contacts.

As for "Traditional" Catholic Third Order Chapters, unfortunately very few exist today.
Known Members

Dominicans have held many high church offices; four popes - Innocent V, Benedict XI, Pius V, and Benedict XIII - and more than 60 cardinals have belonged to the Order.

The Dominicans also played the leading part in the evangelization of South America; the first canonized American Saint, St. Rose of Lima (d. 1617), was a nun of the Third Order of Dominicans, and also Bl. Martin Porres (d. 1639) was a Dominican Tertiary.

In 1805 the Dominicans introduced their Order into the United States.

Here is a detailed listing of all Dominican Saints and Blesseds by feast day, which shows some of the greatest and most well-known Blesseds and Saints in the history of the Church were members.
Traditions of the Third Order
In 1285 a Rule for the Laity was adopted and approved by Pope Honorius IV. All Third Orders are not required to follow the same Rule in exactly the same way, though members must do their best to do what is commonly practiced by their particular Third Order chapter.

Below are the duties performed by the Willing Shepherds of Jesus Christ Chapter (the Third Order chapter at Sacred Heart Chapel).

Note these duties have proven to be effective by more than seven centuries of experience, but they do not bind themselves under sin nor do they affect your membership if you unintentionally miss any of them. Also note that most of these actions (or their equivalents) are already performed by most Catholics on a regular basis, so becoming a Third Order Tertiary should be an practical goal for most Catholics.

Saint Catherine of Sienna
Patron of the Third Order of the Order of Preachers
Third Order Prescribed Actions and Duties

Daily
Accomplishment of the duties of one's state in life (your everyday duties at home and work etc)
Observance of the Rule, copy will be provided when asked
Say one "Eternal Rest Grant unto them Oh Lord", one "Our Father" and one "Hail Mary" for all living and deceased members of the Third Order
(Ideally) Participation in the celebration of the Mass with reception of the Eucharist
Say the Liturgical Office of the Blessed Virgin, or another approved Little Office, or 15 decades of the Rosary, or at the very least, 5 decades of the Rosary
Spiritual reading (i.e. Lives of the Saints, Imitation of Christ etc, but especially the wealth of Dominican authors and writings)
Modesty of dress


Weekly

Recite Office of the Dead (1 hour or nocturne each day for 5 days)

Monthly
Receive the Sacrament of Penance at least monthly (preferably weekly)
(Ideally) Receive Communion in the body with other chapter members on the third Sunday of each month
(Ideally) Say one of the hours of the Little Office of the Blessed Virgin Mary with the other Third Order members after Mass on the Third Sunday of each month
(Ideally) Faithfully attend monthly chapter meetings and functions of the chapter


Annually

To hear, or have offered, three Masses for all Dominicans living and deceased


On Death of a Member

Within eight days following the death notice of a member, each Tertiary of the same Fraternity should recite five decades of the Rosary and attend one Mass while offering the Mass and Communion for the repose of their soul

Fasting
| | |
| --- | --- |
| | Every Friday, and on the vigils of Rosary Sunday (first Sunday of Oct) of St. Dominic (Aug 4) of St. Catherine (April 30) |


Why should I consider becoming a Third Order Tertiary?
The Third Order has been in existence for over 700 years, and provides an abundance of graces and indulgences, including monthly plenary indulgences. In addition, all members are entitled to the reward for the good works of all other members.

Though one should not seek to join a Third Order for the sole purpose of seeking graces and indulgences. Those considering joining any Third Order should first have a motive or "calling" to strive for perfection. Not all Catholics may have this motive (or at least may not have it yet). Once a person feels they have this motive, then seeking graces and indulgences through membership in a Third Order may become a natural desire.
Another inspiration for us to become Third Order Tertiaries; if we look at the list of Saints and Blesseds that have been Dominican Tertiaries over the last 700 years (see link above), becoming a faithful member is clearly a sigh of the holiness that can be obtained through this Order and security for your heavenly reward.
Qualifications for the Third Order of Penance of St. Dominic: Willing Shepherds of Jesus Christ Chapter
| | |
| --- | --- |
| | ·One must be a Catholic actually living one's faith |
| | ·One must join with sincere intention of being faithful to the guidelines set up by the Third Order of St Dominic |
| | ·One must be at least eighteen years of age at time of promises |
| | ·If married, one must have the permission of spouse, unless circumstance creates exception |
| | ·Love for God and one's neighbor |
| | ·A generous soul, willing to make itself available |
| | ·An open mind and sincere heart, eager to listen, be taught and to teach |
Sacred Heart Priory (Brothers) prerequisites
| | |
| --- | --- |
| | Single and male |
| | A mature personality with stable moods and emotions |
| | The ability to persevere |
| | Willingness to submit to authority |
| | A positive attitude and a sense of humor |
| | Ability to get along with others in community |
| | Good physical, mental, and emotional health, and the stamina to endure hard work and a sometimes tight schedule |
| | Adaptability and flexibility, and the willingness to change |
| | A desire to study, pray and to fulfill the spiritual and corporal works of mercy by a daily routine |
Living the Seven Corporal & Spiritual Works of Mercy
Sacred Heart Priory Daily Schedule
6:30 Rise
7:00 Morning Prayer & Rosary
8:00 Mass*
9:00 Breakfast
9:30 Household chores or assigned ministries
12:00 Angelus & Rosary, Sacred Heart Litany & St Joseph Litany
1:00 Lunch
1:30 Household chores or assigned ministries
5:00 Study
6:00 Angelus & Rosary
6:30 Dinner
7:30 Free Time
9:00 Compline
9:30 Simple Silence
10:00 Grand Silence
11:00 Lights Out
*When available
Schedule varies on Saturdays, Sundays, Holy Days of Obligation and Dominican Feast Days..
How do I become a member?
To inquire about becoming a tertiary in our Willing Shepherds of Jesus Christ Chapter, men should see Br. Antony Mary Joseph, T.O.P.
If you are not local to Sacred Heart Church and want to inquire about the Third Order, please send an email message via our Contact page, or write to the address posted on that page.
Thank you.
From Papal Encyclical on St. Dominic
"Hence arose the Third Order of the Dominicans which, spreading among
lay people the institute of a more perfect life, was to be
a truly great ornament and defense to the Church"

From "FAUSTO APPETENTE DIE", a papal encyclical on St Dominic,
written by Pope Benedict XV, June 29, 1921
The Nature and Object of the Third Order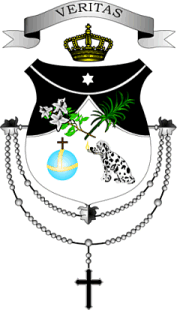 1. The Third Order of Penance of St. Dominic, also called the Militia of Jesus Christ & Third Order of Saint Dominic, is an association of Christians living in the world or in community who, sharing in the the religious and apostolic life of the Order of Friars Preachers, according to their own Rule approved by the Holy See, strive to attain to Christian Perfection under the government of this same Order.

This definition of our Third Order is based on the Church's official definition of a Third Order in her Code of Canon Law. A Third Order is not to be confused with a Confraternity (such as the Rosary or Blessed Sacrament Confraternity) which has its chief purpose the promotion of some public worship. Nor should it be confused with a Sodality or a Pious Association which has for its purpose the exercise of some particular works of piety and charity. Such societies are good in themselves and have been approved by the Church. A tertiary may belong to any or to all of them; but they are not Third Orders. The Third Order entails embracing of a way of life, not the mere practice of some particular work of piety or charity. The lay person embracing this way of life remains a lay person; he does not become a religious, although he does attach himself to one of the great Religious Orders of the Church, in this case the Order of Friars Preachers. In order to attain and to assure the permanency of this way of life, the Dominican tertiary has been given, for his guidance, a Papally-approved Rule of Life designed to aid him in obtaining that Christian perfection which is the end and purpose of the Third Order life.
This Rule is the touchstone of the tertiary's life of perfection. It is this that he promises to obey at profession. He stands or falls as a tertiary according to whether or not he has followed its precepts. Just as the Dominican Friars or Sisters can be judged by their adherence to their particular Rule and Constitutions, so can the tertiary by his adherence to this Rule of Life. The Dominican Religious have their Rule read weekly and the Constitution daily at meal time as a constant reminder of the norms which should govern their lives. So also should the Dominican tertiary ponder well his Rule and make it a part of his very way of thinking. It should be woven into the very fabric of the tertiary's life. It is the Church's gift to her devout laity, the measuring rod of their tertiary vocation. For seven hundred years it has been helping to produce lay saints. Faithfully followed, it is the guarantee of a life of perfection in the world.

2. The end of the Third Order is the sanctification of its own members by the practice of a more perfect Christian life and the promotion of the salvation of souls in a way that is suitable to the state of the faithful living in the world.
When we speak of the end of anything, we speak of its purpose. It answers the question: "For what does it exist?" The end of our Dominican Third Order is two-fold - the sanctification of its own members and the promotion of the salvation of souls. This double purpose of our Third Order fits in perfectly with the contemplative-action vocation outlined by St. Dominic for his first Friars. In the Dominican vocation there must be a constant interchange of the contemplative and the active. One sustains and prepares for the other. The Order's motto, "to contemplate and to give to others the fruits of contemplation," belongs to the regular & secular Third Order as well as to the other branches of the family.
The perfection spoken of is not the perfection demanded of every Christian. It is more. The tertiary in seeking his sanctification must go a step further and seek his perfection by the practice of "a more perfect Christian life" somewhat the same way that a religious goes even a step further by seeking a life of perfection through means of the formal vows of religion. The tertiary, mind you, does not take vows; but he does make a solemn promise at his profession to strive for perfection in accordance with his Third Order Rule and his particular state in the life.
3. The means for obtaining this end, over and above the common precepts and duties of one's own state of life are: the observance of this Rule, continual prayer and, as far as possible, liturgical prayer, the practice of penance, apostolic and charitable works for the Faith and the Church according to one's condition and particular state in life.
The end is not enough. One must also have the means to reach an end. The means here listed have been selected by the Church. They are the result of many years of experience on the part of a wise mother's loving guidance of her countless children as they tread the paths of virtue. They are more than adequate in helping one reach the end.
Do you feel called to preach the gospel
"Even to the uttermost part of the Earth"- Acts 1:8"?
If you feel a calling to be part of Third Order of Penance of St. Dominic, then let us know through email: ThirdOrderofPenanceofStDominic@yahoo.com or write. Please be sure to tell us a little about yourself as well.